Focus on nonalcoholic fatty liver disease and steatohepatitis pathways: data resources and analyses on the platform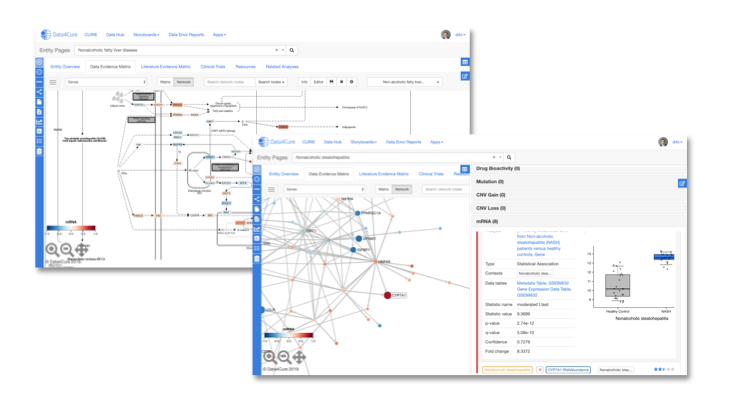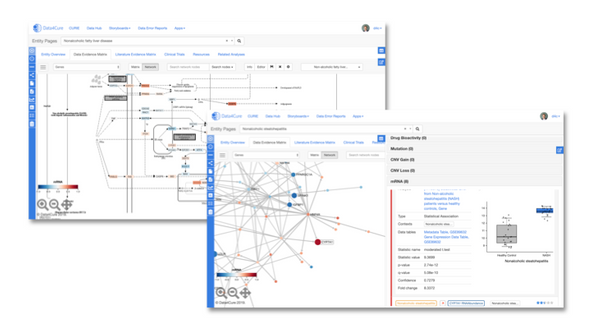 A few weeks ago we wrote about the extensive updates to the CURIE Knowledge Graph (reaching 1 billion data-driven and literature-mined relations) and a new Data Resources framework integrating and semantically indexing thousands of biomedical datasets within the Data4Cure Biomedical Intelligence® Cloud platform.
To demonstrate the power and utility of the new datasets and tools on the platform, this week we will focus on nonalcoholic fatty liver (NAFLD) and nonalcoholic steatohepatitis (NASH).
The Biomedical Intelligence® Cloud comes pre-populated with a large number of semantically-linked datasets and analyses specific to NAFLD and NASH. These resources are continuously expanded using additional public data sources as well as internal data sources that are partner-specific.
These NASH and NAFLD data form the basis for advanced contextual analyses using a broad collection of system biology and machine learning tools available on the platform. Together, these tools help researchers zoom-in on high-confidence drug targets and biomarkers that are supported by tens of datasets instead of just one or two.
Semantically-linked data and literature at your fingertips
The CURIE Entity Pages for NASH and NAFLD allow the users to quickly find disease-related resources, including
Data Resources spanning public and internal datasets

Data Evidence Matrix summarizing data-driven evidence for disease-related genes, pathways, diseases and drugs

Literature Evidence Matrix summarizing literature evidence through direct and indirect associations derived by NLP
Powerful and intuitive integrative systems-level analysis with network and pathway map integration
The data can be quickly analyzed and interpreted in the context of comprehensive repositories of molecular pathway and networks.
Network and pathway views directly integrated with multi-omics and literature evidence from thousands of datasets and millions of publications

Spanning over 20 molecular pathway and network domains

Richly-annotated, context-specific and causal pathways
Advanced biomedical intelligence apps and services
Specialized apps on the platform (examples below) support more advanced and targeted analyses of NASH and NAFLD data (please contact us for a complete list of apps currently available)
Network and Pathway Intelligence (target, biomarkers, MoA)

Disease Subtypes

Predictive Models of Drug Response/Resistance

Multidimensional Cohort Analysis

Cell-type Deconvolution and Single-cell Analysis

Informing NASH/NAFLD R&D pipelines with data-driven and literature-based intelligence
Intelligent apps and services utilizing semantically-linked data and literature support a wide range of pharmaceutical R&D applications, including
Target discovery and validation

Biomarker identification

Disease subtyping

Mechanism of action studies

Breadth of efficacy studies

Drug repositioning

Rational drug combinations
This is just one more small example of moving beyond analyzing one dataset at a time to leveraging thousands of semantically-linked datasets available on the platform to test hypotheses or gain new data-driven insights into a disease of interest.
For examples in other disease areas, take a look at our recent post on analyzing inflammatory bowel disease and mapping immunotherapy resistance pathways. We will provide new case studies with other recent data sources in future posts in the weeks to come.
Now let's turn data into cures.
Interested in discussing these or other case studies using the Data4Cure platform? We'd love to hear from you. Write to us at info@data4cure.com. Let us know how we can help and let's turn data into cures!
— The Data4Cure Team.