Mapping immunotherapy resistance pathways with biomedically-informed AI [Data4Cure @ PMWC 2019]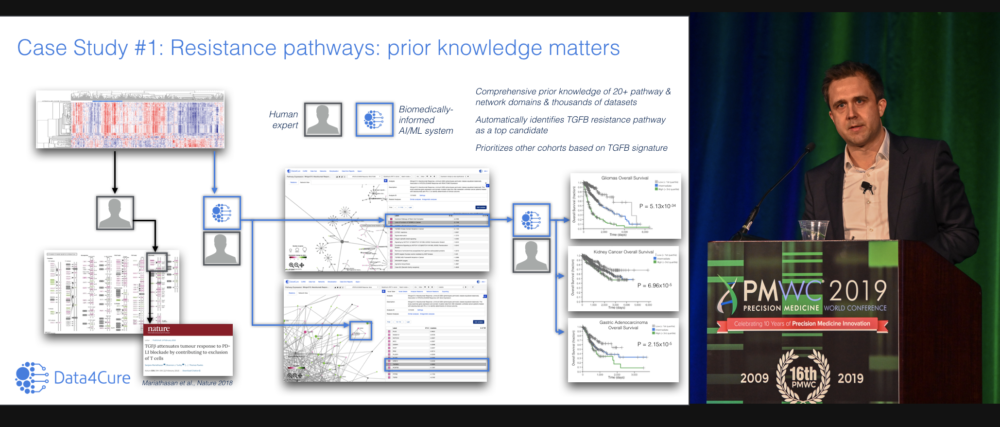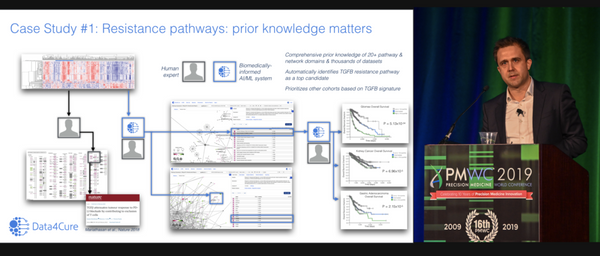 Despite the groundbreaking success of immune checkpoint inhibitor (ICI) therapies in hard-to-treat cancers, still only a fraction of patients show long-term clinical benefit. With the rapidly accumulating molecular, pathologic and clinical data from clinical trials and cancer cohorts, the question is how to best leverage these data to identify better biomarkers of ICI drug response, map out resistance pathways and identify rational strategies for combination therapy to overcome single-agent resistance.
At the end of January, we had the pleasure of sharing new results and the latest additions to Data4Cure's Biomedical Intelligence Cloud at the 2019 Precision Medicine World Conference.
Janusz Dutkowski, Data4Cure's Co-founder and CEO, chaired the session on AI-driven clinical trial design and patient selection and gave a talk highlighting applications of Data4Cure's platform to contextual analysis of immunotherapy clinical trials.
How can modern machine learning strategies and a contextual knowledge graph of >1 billion data- and literature-driven facts and relations help us better understand immunotherapy response and resistance, identify better biomarkers and rational combination strategies? We invite you to watch the video from Janusz's PMWC talk here:
Our team at Data4Cure had a great time at PMWC reconnecting with old friends and colleagues and meeting new ones. Thanks to everyone who visited our booth and attended our talk.
Questions? Comments? We would love to hear from you. Write us at info@data4cure.com. Let us know if we can help and let's work together to turn data into cures!
The Data4Cure Team