Data4Cure's AI-Powered Biomedical Intelligence Cloud Features New Tools for Immuno-Oncology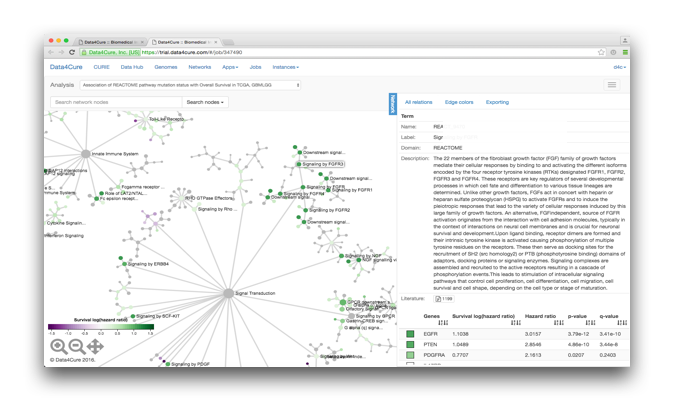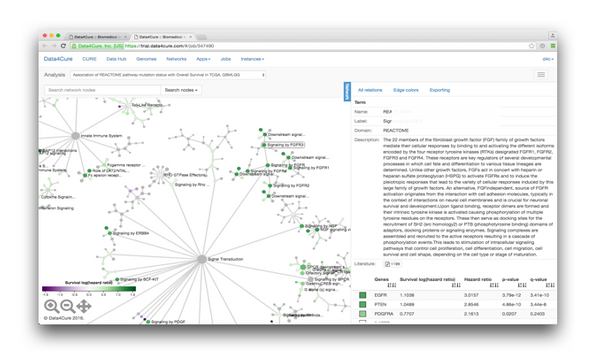 La Jolla, CA, January 24, 2017 /PRNewswire/ — Data4Cure, Inc. today announced a series of updates and new case studies using its Biomedical Intelligence® Cloud – a semantic data-driven discovery platform designed to continuously grow knowledge from a multitude of genomic, molecular and clinical data that are accumulating rapidly in the field. These updates were presented at a session hosted by Data4Cure at the Precision Medicine World Conference (PMWC) in Mountain View, CA.
Watch videos from the PMWC session here:
The company's Biomedical Intelligence® Cloud now includes new tools for immune-oncology research, improved applications for mapping the molecular basis of disease, and a new multidimensional version of the company's molecular stratification engine.
Data4Cure's platform is powered by CURIE™, a dynamic biomedical knowledge graph that is continuously updated with information dynamically extracted from a variety of data sources. Cross-referencing tens of thousands of datasets and bioinformatics analyses, literature, clinical trials and external databases, CURIE provides immediate data-driven answers to over 100 million biomedical questions.
"CURIE understands biology," said Janusz Dutkowski, Ph.D., CEO, Data4Cure, who chaired the PMWC session. "It combines advanced machine learning, systems biology and semantic search capabilities providing a new way to make discoveries. Our platform allows biological and clinical researchers to leverage diverse datasets to discover relationships between entities in a molecular system, and uncover how these entities and relations are affected by the disease and environment, and how they respond to drug interventions."
CURIE is used by multiple applications running on Data4Cure's Biomedical Intelligence Cloud. One of these presented in the update is the Disease Maps application which leverages a plethora of public and proprietary data to create up-do-date molecular maps for over 500 disease conditions including multiple cancer types, Alzheimer's disease, Rheumatoid arthritis, diabetes, and other metabolic, immunological and neurological disorders.
The newest additions to Biomedical Intelligence Cloud platform include tools for immune-oncology research that Data4Cure has been testing with selected pharmaceutical partner companies. "These tools include algorithms for inferring immune cell types infiltrating tumors as well as systems biology tools for interrogating immune pathway activities associated with specific diseases subtypes," said Roy Ronen, Ph.D., VP, Computational Biology at Data4Cure. The new tools are integrated with CURIE and other applications including the stratification and pathway analysis tools.
The platform also includes a redesigned network-based stratification engine which uses network maps along with genetic, epigenetic and transcriptional evidence to identify disease subtypes that are directly tied to the network and pathway-level activities and aberrations, and can be further associated with predicted sensitivity or resistance to selected drugs. In oncology applications the stratification process can now be informed by immune-infiltrate profiles inferred by the platform.
Updates were also introduced to the Multiscale Pathway Maps which combine with the Stratifier to analyze subtype-specific pathway activities, including among the immune pathway component. The updated Disease Maps application –   providing an integrative, data-driven view of a disease networks and drivers – features enhanced omics integration at the pathway-level and annotates maps with detailed information about drug targets, approved therapies and clinical trials.
Launched in 2016, the Biomedical Intelligence Cloud has attracted customers and partners across some of the largest global pharmaceutical companies and leading research institutes. "We are very excited to work with some of the best research groups in the industry and academia," said Dutkowski. "By dramatically accelerating the access to data-driven knowledge and uncovering non-obvious connections hidden in millions of datasets, scientific papers and clinical trials we can really start to turn data into cures."
Learn more at www.data4cure